Customer and Professional Training
Our class list is extensive – from state-certified insurance CE classes to basic or advanced maintenance-related topics. With our staff of certified CE instructors and a master plumber and electrician, we can provide training for you and your staff – at your office or ours.
CE CREDITED COURSES INCLUDE:
Adjusting Property Claims (PA#1145882, NJ#88890026)
Understanding Property Restoration (PA#115045, NJ#88890025)
Mitigating Black Water Losses (PA#112373, NJ#88890027)
Mitigation of Fire Damages (PA#112372, NJ#88890028)
Mold – Health Affects and Remediation (PA#116704)
Each class is eligible for three (3) insurance CE credits for Pennsylvania and New Jersey.
OTHER TOPICS INCLUDE:
Basic or Advanced Plumbing
Basic or Advanced Electrical
Plumbing and Maintenance Repair
Mold & Microbial Remediation
Preventing Water Damage
Equipment Usage
Ice Dams
High Rise Evacuation
Disaster Implementation Planning
CAMT Courses
Electrical Maintenance and Repair
Plumbing Maintenance and Repair
Interior and Exterior Maintenance Repair
MID-ATLANTIC ENVIRONMENTAL HYGIENE RESOURCE CENTER (MEHRC)
Building Science
Mold Remediation Worker Training
Mold Remediation Project Manager
Mold Remediation Supervisor
NATIONAL ASSOCIATION OF HOME BUILDERS (NAHB)
Business Management
Project Management
OSHA ACCREDITED
Blood Borne Pathogen Awareness
Eye Safety
Hazard Communication
Hearing Protection
Medic CPR/First Aid
Confined Spaces
Respiratory Protection
Fit Testing
Scaffolds and ladders
Slips and Falls
Electrical hazards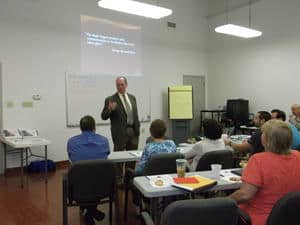 INSTITUTE FOR INSPECTION CLEANING & RESTORATION CERTIFICATION (IICRC)
Carpet Cleaning
Certified Restoration Technician
Fire & Smoke Restoration
Odor Removal Technology
Restoration Technology
Upholstery & Fabric Cleaning
Water Damage Restoration