Supporting You Through the COVID-19 Pandemic
RestoreCore is driven by our mission to restore homes, businesses, and lives – and that mission rings true today, perhaps more than ever. From our Infectious Control Risk Assessment certified technicians, to our EPA N-list approved disinfectants, to our family-owned mentality of taking care of those who mean the most to us, please know that we are here to support you the way we know best – by providing essential and emergency services you can trust.
uniquely qualified to support you
RestoreCore is uniquely qualified to support you and your property during this pandemic. Our team is armed with the following: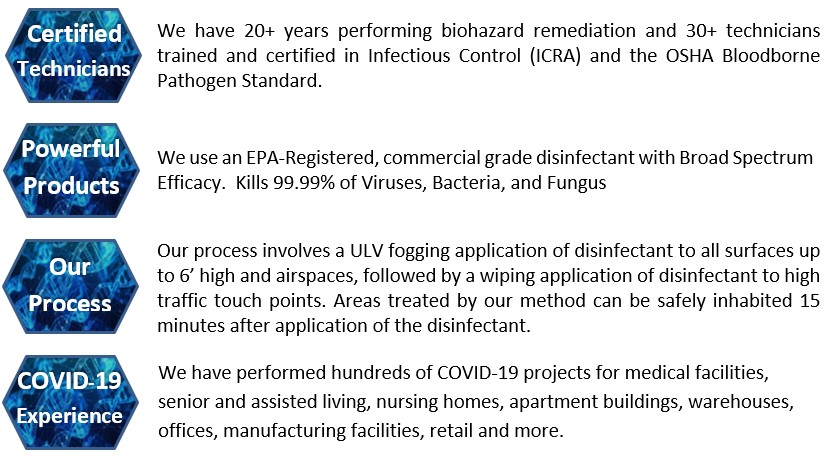 Are You Ready to Reoccupy?
RestoreCore's COVID-19 re-occupancy services are designed to support you as you get back to business in this new normal.
Services to provide peace of mind to customers, employees, and residents:
Continuous Coverage – Weekly applications of disinfectant in common spaces to provide continuous protection.
Re-Occupancy Treatment – An application of disinfectant to give your customers, employees, and residents the confidence of knowing they are returning to a professionally-treated space with their safety in mind.
Reactive Treatment – For when you have confirmed or suspected cases of COVID-19 that occur on site.
We expect a high demand for these services as the state re-opens. Call today to reserve your appointment! 800-231-1281
RestoreCore applies disinfectant through an Ultra Low Volume (ULV) fogging application, followed by a hand wiping application, of an EPA-registered, commercial-grade disinfectant. Check out the video to see our team in action!
Whether you are looking for continuous coverage, have a suspected or confirmed case on-site, or are interested in a proactive approach for your property, call us to discuss how we can help take care of your property and people!
Learn about our disinfectants used by clicking each resource below
Do you have your COVID-19 Operations

& Maintenance plan ready?
Click on the links  for a guide with 60+ questions you need to consider!" 
As we continue to monitor the COVID-19 and Coronavirus pandemic, we at RestoreCore recognize the service that we provide can be personal in nature, which further elevates our responsibility to take appropriate steps to ensure your safety and the safety of our employees.  Caring for the safety of our clients, employees and communities is the most important thing we can do for one another at this time.  We have instituted a number of safety precautions and procedures that our team is employing that will allow them to work safely in your buildings and homes.
Please know that some services that we provide are not considered life-sustaining and once the current mandates are lifted, will be available. Please contact your RestoreCore representative to find out exactly which services are available.
If you have any questions or service requests, please reach out to us.