The sweet, and steamy, days of summer mean cookouts, fireworks, and lots of outdoor fun. But keeping fire safety in mind this season can prevent you from having to call a company like RestoreCore to deal with fire restoration in Philadelphia and beyond! With all the revelry comes the responsibility to keep your fire-related activities under control. Whether you're hosting a bonfire or just grilling up some hot dogs this summer, make sure you keep these tips in mind.
Clean Your Equipment
From barbecue grills to fire pits, keeping the area clean where you use fire is crucial. When it comes to grills, make sure there is no grease build up. No matter the source of the heat, charcoal or gas, keep your grill clean of greasy gunk to avoid an unexpected grease fire that could quickly get out of hand. For fire pits or bonfire areas, clean out debris from previous fires before starting a new one. Additionally, inspect the area around your fire spot to ensure nothing flammable has made its way into a dangerous proximity.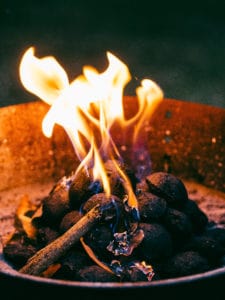 Keep Your Distance
Along with keeping things clean, making sure a source of flame or heat is a safe distance away from your property or other flammable objects is key. Blazes that cause major damage and result in the need for fire restoration can happen in minutes. As a rule of thumb, barbecue grills should be kept at least 10 feet away from any building. This goes for fire pits as well, but having it a bit further away is a safer bet. When it comes to bonfires that are not enclosed, make sure they're far away from structures but also that there are no trees or foliage that could be sparked nearby as well.
Supervise
Never leave a fire burning without supervision. This even goes for fires you think have burned out but could still harbor active embers that could cause a disaster. When you're done with a fire, whether in a fire pit or not, make sure to pour water or sand over it. That way, no smoldering embers can be caught by a breeze and deposited nearby causing a blaze. This rule goes for grilling as well. When the food is done, turn off the propane valve or pour water over your coals.
A few simple steps can keep you from calling us for fire restoration in Philadelphia and beyond. Not that we wouldn't love to serve you! If you do have any questions about home safety during the summer, feel free to contact us. We're here to help.