Earlier this month, part of the RestoreCore team headed to Xfinity Live! in Philadelphia to participate in a day of extensive training for maintenance professionals of commercial and residential building engineers and maintenance technicians. Founder, owner, and president, Andrew Goldberg, had the honor of presenting during the one-day event. His session, running from 10:30am to 12 p.m, focused on a variety of restoration topics, including mold remediation in Philadelphia and the surrounding region.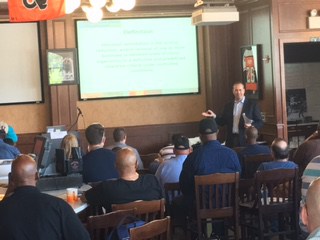 The Maintenance Matters event also served as the requirement for meeting six hours of required education for National Accredited Housing Maintenance Supervisor™ (NAHMS™) and National Accredited Housing Maintenance Technician™ (NAHMT™) Credentials. These credentials were created to recognize apartment housing maintenance professionals, who, through their completion of strict NAHMT and NAHMS requirements, have met the highest possible industry standards.
From appliance maintenance to turnovers and kitchen renovations to sprinklers and alarms, there was a topic for everyone at Maintenance Matters. The day concluded with a networking session, followed by a Phillies game at Citizens Bank Park. The event was presented by IREM Delaware Valley Chapter No. 3 and PennDel AHMA.
RestoreCore prides itself on quality, professionalism, safety, and teamwork. We encourage our employees to participate in a multitude of continuing education opportunities, including fire restoration, water damage restoration and mold remediation in the Philadelphia area and beyond. We are proud to be thought-leaders in the restoration industry and look forward to more opportunities to share our knowledge with peers and clients alike.  Contact us to learn more about continuing education offerings from RestoreCore.